Far from the hustle and bustle of Paris, organise you business functions in the Loire Valley, the "Garden of France", where the gentle pace of life has the upper hand, dictating the way we do things in this region.

You can book the Paul Buisse Winery site in Montrichard.

Make the most of our rather different and charming facilities in the heart of the estate, bring your staff and hold your meetings and seminars in a destination typical of the Loire Valley.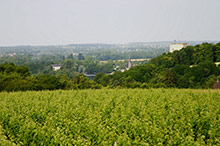 Contact us and we can organise your business function together.
We offer superb facilities inside a cellar cut into the living rock, heated and laid out to suit you, in a theatre arrangement accommodating up to 50 people in with a meeting layout (large tables and "barrel" tables available for a supplement).

You will also have use of our extremely pleasant shady garden right in front of the cellars, from where you can enjoy the beauty and peace and quiet of the estate.

Our entire estate team is on hand to organise your event and will do everything it can to tailor everything to your needs.