White varieties
Le Sauvignon blanc
Paul Buisse owns 14 hectares (35 acres) of Sauvignon Blanc. This world-famous variety is found in the vineyards of central and western Touraine. It is a fragile variety very sensitive to both the soil and the climate. Sauvignon Blanc possesses marked yet subtle aromas and particularly fine and powerful floral fragrances.
Melon de Bourgogne
This French grape variety originates from Burgundy. It is little used in our region but very widespread in Loire-Atlantique, where it is known as Muscadet.
Chenin Blanc
Also known as Pineau de la Loire, Chenin Blanc is the grape variety that produces the great white wines of Anjou and Touraine. It is used to make not only dry, medium-dry and sweet wines but sparkling wines too. Chenin Blanc produces wines with a good ageing potential, particularly in the Vouvray, Coteau du Layon and Bonnezeaux appellations.
Fié, or Sauvignon Rose
A Loire Valley variety that has practically disappeared. After careful vinification it produces a very light golden-coloured wine that is round, supple and long in the mouth, with highly distinctive aromas of beeswax and a hint of muscat.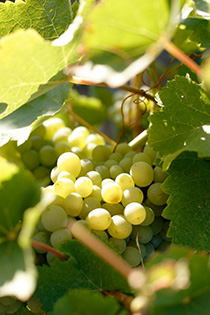 Red and rosé varieties
Gamay
Particularly common in Beaujolais and Touraine, Gamay produces a fruity, light and fresh red wine with aromas of raspberry, blackberry and spices. It makes a surprising and original wine when blended with Cabernet or Côt.
Cabernet Franc
This is generally vinified on its own and used mainly to make appellations such as Chinon, Bourgueil, Saint Nicolas de Bourgueil and Saumur Champigny. It is also used for single-varietal rosés for Cabernet d'Anjou and Cabernet de Saumur or blended rosés and blended reds of the Touraine appellation.
Pineau d'Aunis
Also known as Chenin Noir, this produces light reds and rosés with fruity and peppery aromas. It is a somewhat neglected variety that Paul Buisse is restoring to its former glory.